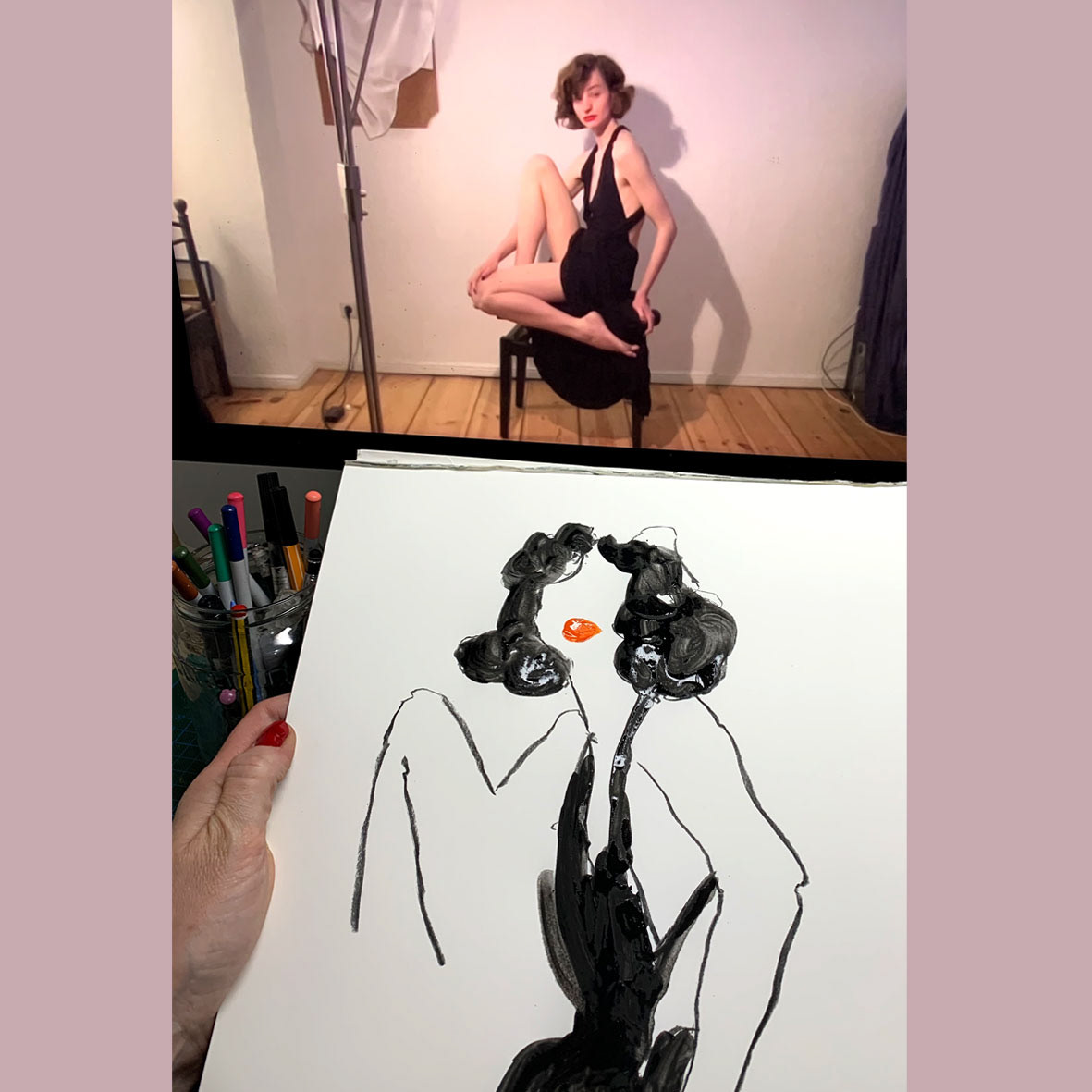 AHOI SKETCHERS ist kein klassischer Aktzeichenkurs. Die Vielfalt der Modelle in Bezug auf Körperform, Hautfarbe, Alter und Geschlecht ist uns besonders wichtig. Es darf bunt, schrill und schräg sein. Der Fokus liegt weniger auf klassischen Schönheitsideale als vielmehr auf der Originalität des Models. Wir schaffen eine gemütliche Atmosphäre mit Platz für jeden Stil und jedes künstlerische Niveau. Jeden Monat gibt es besondere Events. Kostüme, Masken, Make-up, Stoffe, Requisiten etc. sind möglich. Hier ist kein Platz für Intoleranz, Bodyshaming, Homophobie, Rassismus und Sexismus. 
Hej, mein Name ist Anni und ich bin Illustratorin, Dozentin und professionelle Eventzeichnerin aus Hamburg-Wilhelmsburg. Meine Idee ist es, einen Raum für KünstlerInnen und ZeichnerInnen zu schaffen, indem man sich wohlfühlt und inspirieren lassen kann. Es darf gezeichnet, gemalt, collagiert, gemarkert und geklebt werden kann. Da ich selbst verschiedene Zeichenkurse geleitet habe, achte ich sehr auf interessante und ästhetische Posen, die die Persönlichkeit des Modells unterstreichen. Der Austausch über Arbeiten und Problematiken beim Zeichnen sind gerne gesehen, denn durch Fehler lernt man (durch die eigenen und die der anderen). In der Regel findet der Kurs auf deutsch statt, das hängt von den Modellen und Teilnehmern ab. 
AHOI SKETCHERS is not a classical nude drawing course. The diversity of the models in terms of body shape, skin colour, age and gender is particularly important to us. It is allowed to be colourful, shrill and weird. The focus is less on classical ideals of beauty and more on the originality of the model. We create a cosy atmosphere with room for every style and artistic level. Every month there are special events. Costumes, masks, make-up, fabrics, props etc. are all possible. There is no room for intolerance, body-shaming, homophobia, racism and sexism here. 
About the organiser
Hey, my name is Anni and I am an illustrator, lecturer and professional event drawer from Hamburg-Wilhelmsburg. My idea is to create a space for artists and draughtsmen where you can feel comfortable and be inspired. You can draw, paint, collage, mark and glue. As I have led several drawing classes myself, I pay a lot of attention to interesting and aesthetic poses that underline the personality of the model. Exchanges about work and problems in drawing are welcome, because through mistakes one learns (through one's own and those of others). The course is usually held in German, but this depends on the models and participants.